Freddie Mac's new home renovation loan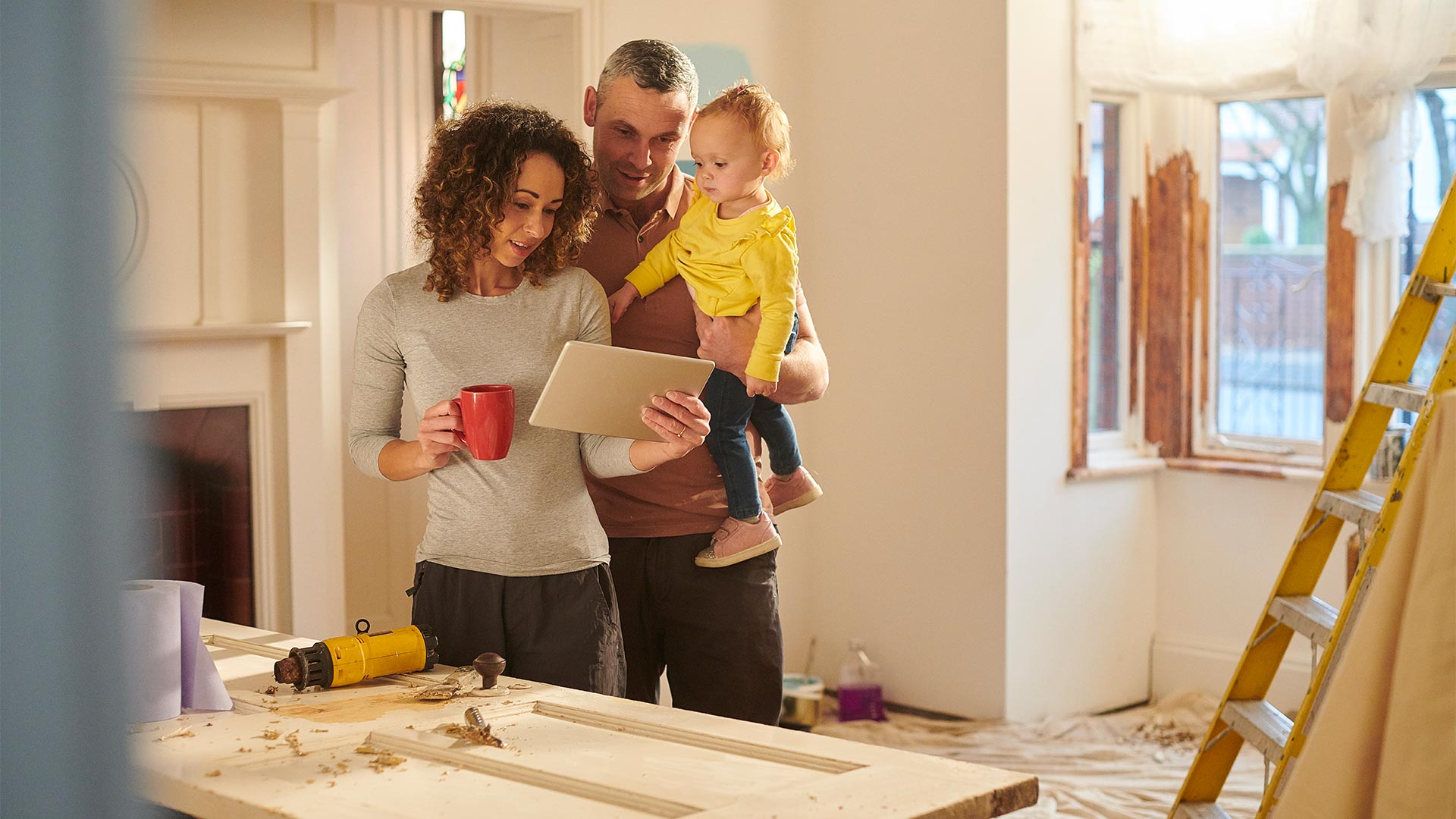 Freddie Mac's new home renovation loan
Freddie Mac's CHOICEReno eXpress program can provide you with much-needed cash when you buy or refinance a home that needs renovation.
This one-time loan will finance your mortgage and home improvement projects with a single loan. That means just one set of paperwork, one deal, and one set of closing costs.
Like other one-time home finance loans, CHOICEReno eXpress can save you time and money when financing renovations to a new or existing home.
Check your mortgage options. Start here (29.12.2021)
---
In this article (continue to …)
---
What is the CHOICEReno eXpress Renovation Loan?
Home renovations can update a property according to your style and preferences. And some projects even add value to your home. But renovations can be expensive.
Freddie Mac's CHOICEReno eXpress is designed for small projects and works by combining home equity financing with a home renovation loan. So instead of getting separate finance for home projects, you can get an all-in-one loan with an individual closing.
This lean home renovation loan program is an alternative to using your personal savings, a credit card, or your equity to finance residential projects.
Note, however, that this program is not intended for newly built properties. And it is limited to certain types of loans and units.
Freddie Mac's CHOICEReno eXpress differs from home loans in that you can advance 100% of the cost of materials to a building contractor or hardware store as soon as you receive money. However, you will need to provide a quote from a hardware store or licensed contractor.
The good news, however, is that if you are a licensed contractor, you are allowed to do home improvement projects yourself. But the program doesn't allow paying yourself for work.
What renovations can you do with Freddie's Mac CHOICEReno eXpress?
Freddie Mac's new home renovation loan program allows funding for small cosmetic enhancements such as:
Minor renovation work indoors and outdoors
Interior and exterior painting
New windows and doors
Buying energy efficient devices
Repair or replace your roof
You can get mortgage financing plus an additional 10% of the property's value for improvements (or 15% in a high-need community).
As an illustration, let's say you buy a home worth $ 300,000 with a 5% down payment of $ 15,000. Because you can get 10% of the property's completion value, you could get up to $ 30,000 on home improvement projects under this program.
Freddie Mac CHOICEReno eXpress Loan Requirements
In addition to using the CHOICEReno eXpress loan for small projects, you can only use this program with certain mortgage products.
It is available with Freddie Mac fixed and floating rate mortgages, such as Freddie Mac Home Possible Mortgages, Freddie Mac HomeOne Mortgages, Freddie Mac HFA Advantage Mortgages, and Super Conforming Mortgages.
Some of the properties eligible for the Freddie Mac CHOICEReno eXpress loan include:
1–4 units of main residences
1-unit second homes
1-unit investment property
Prefabricated houses
Note that the LTV of the program depends on the type of unit and the program.
95-97% for 1-unit properties *
105% for 1 Unit Properties with Affordable Seconds Down Payment Support
85% LTV for 2 unit primary residences
80% LTV for main residences with 3–4 units
90% LTV for second homes with 1 unit
85% LTV for investment properties with 1 unit
95% LTV for prefabricated houses
* Varies depending on the loan program. Eligible LTVs are higher for first-time home buyers using Freddie Mac HomeOne or Freddie Mac Home Potential Mortgages
Typically, owner-occupied mortgages must move into the property within 60 days of closing. However, this program does not require occupancy during the renovation and you have up to 180 days to complete the renovation.
Other Freddie Mac home renovation loans
While Freddie Mac's CHOICEReno eXpress is an option for some borrowers, it is not an option for everyone.
For example, this program only allows minor renovations. If your home improvement is not eligible for eXpress funding, they may qualify for Freddie's CHOICERenovation loan, which is the parent loan program.
Similar to the Xpress renovation loan, the CHOICERenovation is a single mortgage that closes the renovation costs with a financing. You can also use this loan for a new purchase or refinancing.
The difference, however, is that this program funds large home improvement projects, including renovations and repairs that are required after a natural disaster.
This parent program has the same LTV maximum as Freddie Mac CHOICEReno eXpress. And you can advance 100% of the cost of materials to a licensed contractor or hardware store. You have 365 days to complete improvements.
Check your mortgage options. Start here (29.12.2021)
Alternative renovation loan programs
Freddie Mac home renovation loans aren't the only alternative for small (or large) projects. Other options are:
Fannie Mae HomeStyle
Fannie Mae's HomeStyle is another way to finance renovations with a classic loan purchase. Whether you're buying or refinancing, you can use funds on home improvement projects, including landscaping projects and luxury upgrades.
FHA 203 (k)
When buying or refinancing with the FHA-backed 203 (k) mortgage, you can borrow up to 110% of the proposed value of a property for renovations. However, you cannot use this loan on an investment property or on luxury upgrades such as a swimming pool or outdoor kitchen.
Cash-out refinancing
Another option, if you already own your home, is to pay off some of your equity with a cash-out refinance. This means that you borrow more than the original loan amount and then receive the difference in cash. A cash-out refinance can be a good idea if you want to lower your mortgage interest rate while adding to your home equity.
Home loan
Or you can apply for a home loan. This means that you borrow against the equity of your home and receive a flat rate payout, typically up to 80% to 85% of the value of your home.
In contrast to a cash-out refinancing, this is a "second mortgage", which means that you take out a separate loan on Your existing mortgage. This leaves you with two loans and two monthly payments. But refinancing may be preferable if you already have a good interest rate on your current mortgage – or if you have almost finished paying the house off.
Home Equity Line (HELOC)
A HELOC also allows you to borrow against your home's available equity. But instead of getting a lump sum, you get access to a line of credit that you can draw on as needed.
Choose a loan for home renovation
Freddie Mac's CHOICEReno eXpress program is just one of many ways to finance home improvement. The type of loan that is right for you will depend on your finances, your current home ownership status, and the type of home renovation you are planning to undertake.
Contact a mortgage lender when you are ready to discuss your options. A loan officer can help you determine what types of loans are available, what you qualify for, and what makes most sense in your situation.
Show me today's prices (December 29, 2021)
The information contained on The Mortgage Reports website is for informational purposes only and is not intended to be an advertisement for the products offered by Full Beaker. The views and opinions expressed here are those of the author and do not reflect the policies or position of Full Beaker, its officers, parents or affiliates.