Silvergate Stock: The Gateway to Bitcoin for Value Investors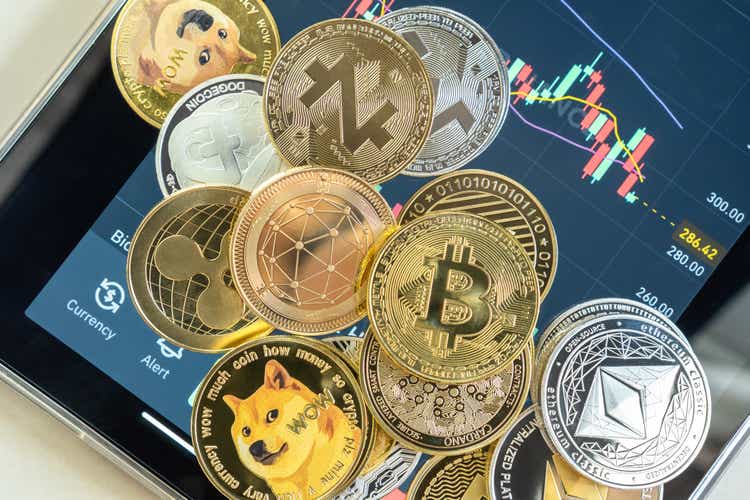 Reason
silver gate (NYSE:SI) is a regulatory play in the Bitcoin ecosystem with a profile to take advantage of higher interest rates. The company capitalizes on the bitcoin acceptance trend by receiving free funding from institutions using the SEN network. The enterprise applies these funds to high quality assets (mostly floating rate). Silvergate has also launched a lending product called SEN Leverage. It is a bitcoin-secured lending product that allows its customers to use their bitcoin as collateral for funding.
The rationale here is very simple. The bank is an FDIC-insured entity that operates in the crypto ecosystem, and there aren't many at this stage of the crypto scene. Most startups in this space don't even try to be regulated, and those that try have been through regulation hell. As such, Silvergate is in an advantageous position to capitalize on crypto growth. At the same time, it is in a good position to benefit from the rising interest rate landscape.
Silvergate's business model
Silvergate is a traditional bank that got involved with Bitcoin because it needed funding alternatives. CEO Alan Lane began researching Bitcoin back in 2013. After concluding that institutions in the Bitcoin ecosystem had enormous problems that traditional Wall Street banks weren't interested in solving, the company saw an opportunity. The Company developed the Silvergate Exchange Network ("SEN"). This network allows customers to make payments in real time. Additionally, as mentioned earlier, the company has developed SEN Lending, a financing solution for Bitcoin holders.
Other than that, Silvergate is a traditional bank. However, I believe their success around Bitcoin will push them more and more into the crypto ecosystem.
However, for now (2Q22) the bank is very traditional in its business. It is funded by customers while investing in high quality mortgage securities (97% AA- or better). More than 50% of the securities are floating rate, meaning the company is also well positioned to benefit from a rising interest rate scenario.
The innovative footprint in Silvergate's business model is the SEN network, which has enabled them to scale and receive more funds to invest, while SEN leverage expands their ability to offer credit.
Their old-school approach to banking is a great fit for a regulated company entering the crypto ecosystem. This will likely make them avoid the most outrageous business experiments and move on with the most down-to-earth ideas. Since crypto re-lien is one of the main causes of problems for centralized companies operating in this space and Silvergate appears to be very conservative in its approach, they are likely to avoid significant problems.
The company takes a bread-and-butter approach to its business. On the one hand, it offers valuable help to customers who need to defer payments against cheap financing. On the other hand, they use their network to offer overcollateralised loans. Along the way, they collect interest margins and significant fees while holding the option for further growth (further expansion of SEN and stablecoins).
Silvergate's growth prospects
The company is expanding the SEN network to other currencies such as the euro. Giving your customers the ability to move euros 24/7 is a valuable addition to their service offering.
Now, SEN leverage is also driving its revenue-generating applications. The growth has been incredible, around 600% year over year, and it has generated no losses and no forced liquidations. It is worth noting that in SEN Leverage's direct lending program, Silvergate acts as a custodian and holds the customer's bitcoin, and the bank then lends the money directly to the customer's account via the SEN network. The company also offers indirect SEN leveraged loans that may use third parties for custody or digital currency services. In any case, the company can realize the collateral if necessary. In addition, in the event of liquidation, the collateral coverage is set to result in an amount in excess of the customer's loan.
Silvergate has already announced that it intends to operate a stablecoin network. It even bought Diem assets from Meta (META). The company sees the potential for stablecoins to become global payment lanes. Because the bank is an insured custodian, it could become one of the first regulatory compliant institutions to offer stablecoin services and products. That will likely fuel the next growth spurt for the company.
Financial highlights
The strategy, started in 2013, has produced impressive results. The SEN network allowed the company to increase its non-interest bearing deposits and became its main source of funding.
The table above includes only deposits related to the digital initiative (total deposits are $14.2 billion). The SEN has also proven valuable in generating a source of interest-free income, particularly fees from services and products associated with the SEN network.
The impact on the income statement is nothing short of amazing. Interest income has grown rapidly while interest expense has fallen over the same period. If there is a holy grail in banking, it has to be as close as possible. Of course, bottom line has also improved significantly, as has earnings per share. From 2017 to 2021, EPS grew from 0.79 to 2.91. In short, most metrics have performed incredibly well.
risks
As I mentioned, the company invests a significant amount in floating rate instruments. Assuming a static balance sheet, a 25 basis point rise in interest rates adds $16 million to net income over 12 months, the company said. But that can also go the other way around.
On the other hand, crypto prices tend to be listed as a significant risk for Silvergate. The company's share price tends to follow the price of bitcoin. In my opinion, the available data refutes the notion that a fall in Bitcoin price is bad for business. The way Silvergate's business model is structured has enabled revenue and net income growth even after huge drops in crypto prices.
However, there are risks associated with crypto. If the industry were to shrink permanently (say, through tightening regulations), Silvergate's reliance on that funding would be at risk. Even if the business model is not directly affected by the listing of Bitcoin, it will affect the acceptance and thus the growth of Silvergate.
The SEN Leverage Loans are another potential source of risk. The first quarter earnings call included mention of a MacroStrategy loan (MacroStrategy is a subsidiary of MicroStrategy). The company explained that this loan is part of the SEN Leverage segment. After the explosion of several crypto ventures (Luna, 3AC, Voyager), many fear that the SEN loans could carry much more risk than previously thought. However, the details of the loan that are publicly known suggest that the likelihood of Silvergate being affected is slim. MacroStrategy provided $800 million worth of Bitcoin to support the $200 million loan. The credit concession came when Bitcoin was trading at around $47,000. Since then, collateral has more than halved. However, it is still almost double the loan amount.
After all, all this growth has its downside. It triggers the need to raise capital. In my opinion, this way of raising capital is benign. The money goes to growing the business and not just to cover up unfortunate past decisions. However, size increases the risk of urban accidents.
Promotion updated for investors
In a previous article, I argued that the company has the potential to generate about $2.7 per share if it raises capital to increase SEN deposits and targets a 1% ROA. The original table is below:
I built this more than a year ago. Now, the company has just released its second quarter 22 results and reported earnings per share of $1.92 for the first half. The estimate of $2.67 in the table corresponds to a full year. We will probably surpass that this year. I find the prospects exciting.
How did the share price develop back then? Bad very bad. Since I wrote this article, Silvergate is down more than 50%.
There are mutliple reasons for this. One is the macro backdrop, which is terrible, with valuation compression across the board.
More than ever, I believe this stock is a good investment opportunity for crypto skeptics as well. If you are, bear with me for a second. Silvergate has a conservative management team running an old-school bank anchored in a high-growth industry. They employ the same orthodox tactics that have given so many old-school bankers the upper hand in the past. At the same time, they create value from one of the fastest growing fintech sectors.
I'm not going to ask a skeptic to drop all their assets and give it all, but I would argue that if there's a good advantage for them to break into the crypto scene, it's Silvergate. The company trades at 15 forward PE and appears to be a value stock with growth potential. One of those opportunities that rarely come along. You can also look at this as follows. The company last raised $145 in capital in 2021. Now it has successfully deployed that capital and is already reaping the rewards of that move. Nonetheless, the market now offers the opportunity to get in at around half the price. What's not to like about a diversified portfolio?